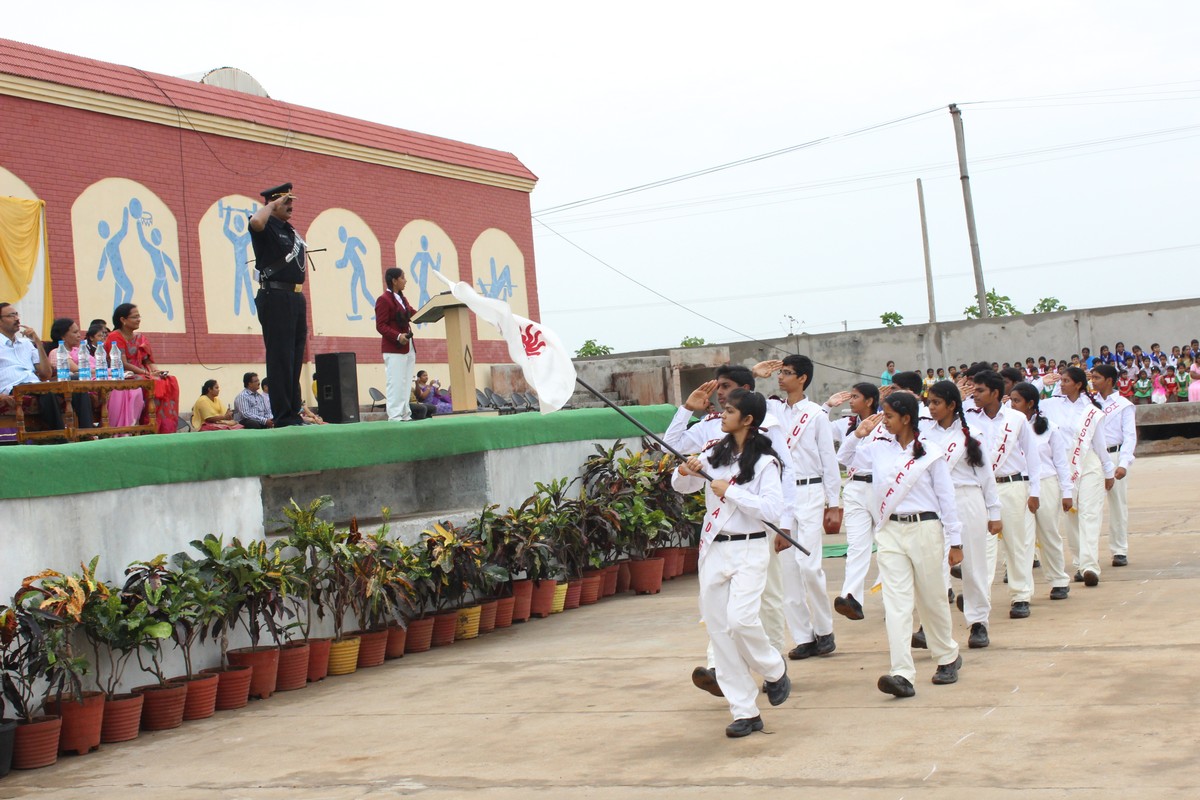 Sri Prakash Synergy School- Peddapuram celebrates investiture ceremony impressively and ostentatiously on 18th of this month in the school premises. 18th Andhra Battalion NCC commanding officer, Lt Colonel Anilkumar Kanan graced the occasion as the chief guest. He presented the ranks to the Head girl Sameekshya Behra, prefect Boy, John R.Thilak, prefect Girl Vaishnavi Bhavya, Cultural President &Secretary, Liaison President & Secretary, Sports President & Secretary, Hostel Captain and vice Captain and the Captains and Vice Captains of Chola, Kakatiya, Maratha and Mourya houses respectively. He also proposed the oath for all the council members with their respective positions.
Rising to the occasion, colonel Anilkumar inspired the students with his brilliant speech and gave a clarion call to develop leadership skills and enlightened them by saying how to turn adverse condition as stepping stones for success. He was highly impressed by the discipline of the students. On this august gathering, The Head Girl and The Prefect Boy promised the gathering that they would make this academic year an ideal one under their leadership. Director of the school, Mr. Vijay Prakash encouraged the students by saying that they are expected to develop leadership qualities right from the school days and must be the exemplary citizens of tomorrow.
The council members, NCC cadets, the members of Chola, Kakatiya, Maratha and Mourya houses have made the march past an eye feast. A special group of students of synergy gave a marvellous and meticulous performance in the special march past which was christened 'synchrostride'. This synchrostride caught the attention of the audience and remained the centre of attraction.
Senior Principal Mr. MVVS Murthy, Mr. Rammohanrao, the director, of Synergy Kids Kakinada, Principal, Smt. Kanakadurga, Dr. Muniramayya, Principal, JNV, peddapuram, Smt. B. Rajeshwari, the Dean of Synergy School and teaching & non-teaching staff of synergy were among the other dignitaries who graced the occasion and made it a scintillating one.